VRM software collects and automates the management of vendor risk data to protect businesses from supply chain vulnerabilities, data breaches, and compliance issues.
This software onboards suppliers while also evaluating, monitoring, and mitigating risks that could harm a company's vendor relationships.
These technologies, also known as third-party risk management (TPRM) or IT vendor management software, are especially important for businesses that rely on third-party suppliers or data providers.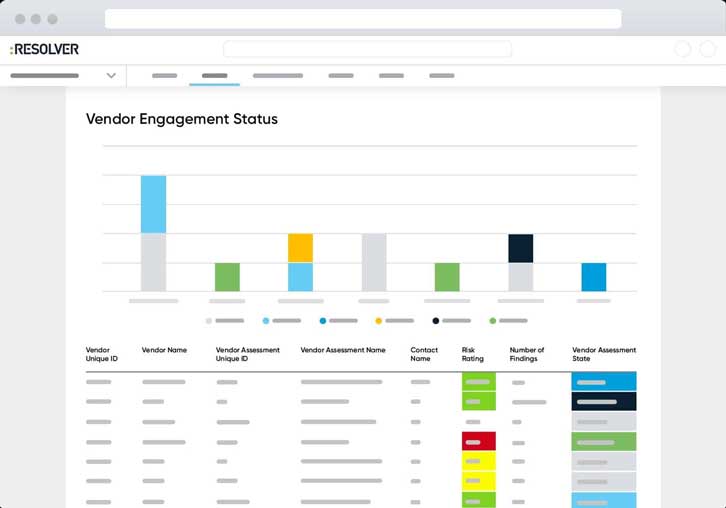 VRM software assists businesses in reducing the risk of external supply disruptions caused by untrustworthy vendors.
Here are some overview about Risk Management Software Vendors:
Wrike Software
Wrike is a cloud-based project management platform for teams of 20 or more that is suitable for both large enterprises and small and medium-sized businesses.
It allows various teams to work remotely. Gantt charts, calendars, a workload view for resource management, custom dashboards, and real-time updates are included in this solution.
It supports folders, projects, and tasks, as well as auto-assignment based on task statuses.
Wrike for Marketers is a standalone product that includes custom templates, proofing tools, and an Adobe extension.
Wrike integrates with numerous tools, including SalesForce, Dropbox, Slack, and Adobe Creative Cloud, and provides an open API.
Wrike is appropriate for marketing, operations, creative, and large to medium-sized IT teams.
Wrike Pricing: Wrike's FREE basic plan is now available for an unlimited number of users:
Professional: $9.80 per month per user
Business: $24.80 per month per user, billed annually
Enterprise: $45 per month per user
Pinnacle: $60 per month per user
Wrike should be contacted directly for accurate pricing.
Link Wrike for more information https://try.wrike.com/risk-management-capterra/?utm_medium=cpc&utm_content=listing&utm_campaign=risk-management&utm_source=SoftwareAdvice
TeamMate+ Audit Software
TeamMate+ Audit is a cloud-based audit management tool that helps businesses of all sizes improve the visibility, efficiency, and consistency of internal audits across departments and organizational levels.
Auditors can use TeamMate+ to create customizable audit reports, view audit processes in the content library, configure workflow phases, and track document changes with an audit trail.
Managers can manage audit assignments, view the overall audit process for risk and compliance, and track ongoing issues and available staff using TeamMate+ Audit dashboards. With configurable fields and workflows for custom project milestones, custom workflows, and end-user configurations, TeamMate+ AM can adapt to any audit department or team.
Click this link for further information https://www.wolterskluwer.com/en/solutions/teammate
3E Protect Software
3E Protect is a health and safety management solution that assists organizations in the healthcare, pharmaceutical, petrochemical, and other industries in managing associated safety data sheets (SDS) in order to reduce incidents across departments.
Organizations can use the application to manage chemical inventories and ensure compliance with environmental, health, and safety (EHS) regulations.
Employees can use the application to view information about different chemical hazards and protective measures, generate and print container labels, and manage data indexation processes.
Risk assessment, document management, custom workflows, mobile support, an activity dashboard, and other features are available with 3E Protect.
Administrators can also track employee productivity, generate custom reports, and interact with suppliers.
Click this link for more information about 3E Protect https://www.3eco.com/3E-Protect-Trial?utm_source=Capterra&utm_medium=product+listing&utm_campaign=3E+Protect+Free+Trial+PPC
QT9 QMS Software
QT9 Quality Management Software is a web-based QMS software that helps businesses meet ISO and FDA quality standards.
The software is available for on-premise or cloud deployment.
The tool eliminates the need for paper records in favor of electronic systems.
The application assists service and manufacturing companies in managing day-to-day operations and ensures complete transparency throughout the system.
Users of QT9 Quality Management Software can set up email reminders to keep employees on track to complete project modules on time.
Users can also use the QMS system to track nonconforming products, employee corrective actions, document control, training, and other quality modules.
The application provides a module approval system for quality managers to approve, verify, and reject employee project work.
Quality managers can use a digital signature to send project approvals to teams.
Want to start free trial? Click this link https://qt9qms.com/risk-management
Nlyte DCIM Software
Nlyte Data Center Infrastructure Management (DCIM) is intended to assist businesses in planning, managing, and automating the entire infrastructure lifecycle, which includes data centers and hybrid-cloud resources.
By analyzing what-if scenarios, administrators can forecast the capacity impact of data center projects on space, power, cooling, and networks.
Nlyte DCIM includes an application programming interface (API) for easy integration with various configuration management databases (CMDB) and IT service management (ITSM) platforms.
Pricing is available upon request, and assistance is provided via phone, email, and other online means.
Want request a demo? Use this link https://www.nlyte.com/microsite/request-demo-2/?utm_source=capterra&utm_medium=paid
CTM360 Software
CTM360 is a platform for detecting, managing, and responding to threats and vulnerabilities on the Surface, Deep, and Dark webs.
External attack surface management, cyber threat intelligence, cybersecurity risk scorecards, third-party vendor assessments, brand protection / anti-phishing, data leakage protection, social media monitoring, and takedowns are all available to CTM360 platform subscribers on an unlimited basis.
Want to know how it works? Use this link https://info.gartnerdigitalmarkets.com/ctm360-gdm-lp/?category=risk-management&utm_channel=SoftwareAdvice
Conclusion
The sole purpose of vendor risk management software is to manage and account for third-party vendor risk.
Governance, risk, and compliance (GRC) software, on the other hand, is intended to manage risk more broadly across the organization, particularly internally.
Hope this article helps you!